Creative Solutions For Real Estate & Home Improvement
Discover a harmonious blend of real estate expertise, ecological design and wellness focused construction
See the difference that regenerative landscaping can have on your home and habitat when you meet our partners at Grow San Mateo.
Designing one space at a time

Circlefoot is the leading wellness real estate, landscaping and construction company. We design, build, buy, sell and manage homes, gardens, homesteads, and small farms in San Mateo and beyond.

Our mission is to deliver ecologically regenerative outdoor-indoor living solutions.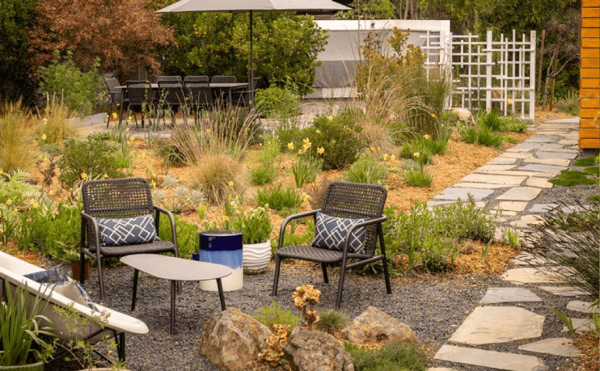 Living Lightly and in Balance with Nature
Circlefoot follows the footsteps of those who lived and loved on these lands – to design, build and manage regenerative outdoor and indoor spaces for the health and wellness of people and place.
"No house should ever be on a hill or on anything. It should be of the hill. Belonging to it. Hill and house should live together with each the happier for the other."
Our Clients Love Us
Our proudest moment is not when the job is completed, but when the client calls us back or refers us.
Over 75% of our clients request additional services, and 4 out of 10 of Circlefoot's new clients are referrals from happy clients.
Restoring Landscapes, Homes & Farms
Circlefoot is the leading wellness landscaping and construction company that designs, builds, and manages homes, gardens, homesteads, and small farms in San Mateo and beyond.
Our Vision
Every human being living lightly and in balance on our planet. From land use to consumer choices to industrial processing, every choice that is made has the potential to have longstanding impact to our society and environment.
Circlefoot's imprint is a collaborative one – with our clients, partners, and interest groups who desire a transition to a more just and ecologically regenerative economy.
"Our natural lands, water and air belong to everyone. We therefore have a responsibility to manage our part of it responsibly."
– Diego Torrelio, Circlefoot Founder & CEO
The Circlefoot Ethos
EARTH CARE.
Every living being belongs to an interconnected ecological system and each one of us has our part to contribute for today and tomorrow.
PEOPLE CARE.
As humans, we live in community and therefore share a responsibility to treat one another with care, including our spaces and those with less than ourselves.
SURPLUS SHARE.
Like the Ohlone people who inhabited these lands, we will set limits to live in balance with nature and return any surplus to our ecosystem.